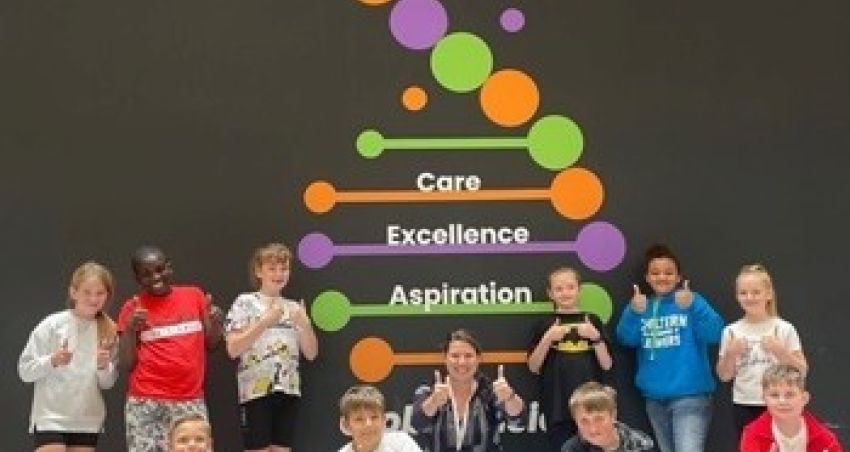 Shoe designing, clock making and speed cup stacking are just three of the events enjoyed by students at Northampton International Academy (NIA) as part of a week-long summer school of events organised for Year 6 children who are due to be starting in September as the newest cohort of Year 7 at the school.
For Year 6 children across the country, this summer brings with it a huge sense of excitement and anticipation as they enterDNA of Northampton International Academy a significant transition period in their lives; getting ready for secondary school in September. Unfortunately many transition events were either cancelled or conducted virtually during the last few weeks of the summer term because of COVID restrictions, changing what should have been a time for making new friends and becoming familiar with new school settings.
The summer school programme included daily House competitions including speed cup stacking, Mario Kart competitions and paper tower making, as well as cooking and baking, clock making, shoe designing, cushion creating, and a wide range of PE sessions. The programme was attended by over 100 learners daily across the week (9th to 13th August) with specialist teachers running the rotation of sessions each day.
Parents of the new Year 7 students have shared their experience of the summer school programme. One parent said 'My son has been a nervous wreck since finding out his placement at secondary school on top of all the disruption from COVID. This opportunity has completely relaxed and reassured him and after his first day at summer school he is so happy and excited to start his secondary school journey. This has been an excellent idea and I'm sure many other children will benefit from it too.' Another parent agreed, 'By offering my son the opportunity to attend Summer School, this has led to a good foundation for when he begins actual secondary school in September.'
Student Archie with Ms Auger showing off clock designMs Auger, Head of Middle School phase was thrilled with the response from learners and families. She said: "Our new Year 7 learners have come into this week with an enthusiasm and positivity that has impressed every member of staff. During every session, each child has lived our DNA of Collaboration, Aspiration, Respect, Responsibility, Care and Excellence, and there is already a tangible sense of pride in their House and tutor group identity.
"New friendships have been formed and learners have expressed a feeling of confidence about September. We cannot wait to see everyone again, along with our other learners, in September."