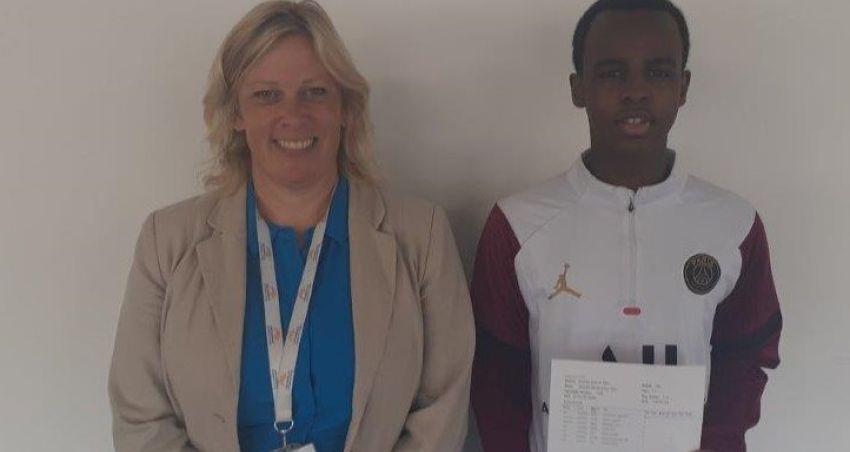 Showing responsibility, aspiration and excellence, our learners have worked incredibly hard both at home and at school to prepare for and complete the rigorous assessments required for their centre assessed grades. Year 11 learners at Northampton International Academy have demonstrated the characteristics and values that are the DNA of NIA to secure top GCSE grades.
NIA's top performing learners were Richu Fenny who secured 6 x grade 9s and 2 x grade 8s, Oren Wheeler who gained 6 x grade 9s, 2 x grade 8s and 1 x grade 7, Nasrudin Adan who achieved 5 x grade 9s, 1 x grade 8 and 2 x grade 7s, Angelina Uttley who attained 4 x grade 9s and 4 grade 8s and Gloria Tartaraj who was awarded 4 x grade 9s, 3 x grade 8s and 1 x grade 7.
The whole cohort has done incredibly well despite the extreme difficulties faced over the last two years including multiple disruptions caused by the pandemic. Supported by our specialist staff, learners received a broad curriculum and gained a wide set of skills and knowledge as they completed their key stage 4 studies.
Commenting on the results, Dr Jo Trevenna, Headteacher of NIA, says 'We are committed to providing learners not only with a high aspiration academic curriculum but also with the skills and qualities needed to thrive in adulthood. Our House system and strong character focus means that we are helping to build the personality traits and self-reflection skills to equip them well for life. We are pleased to be welcoming many of our learners into our high performing sixth form and look forward to seeing them continue to flourish.'
Josh Coleman, CEO of EMAT commented "our community within the school have pulled together to ensure that the life chances of pupils within the NIA were not disproportionately negatively impacted due the situation the world has faced. Well done everyone."