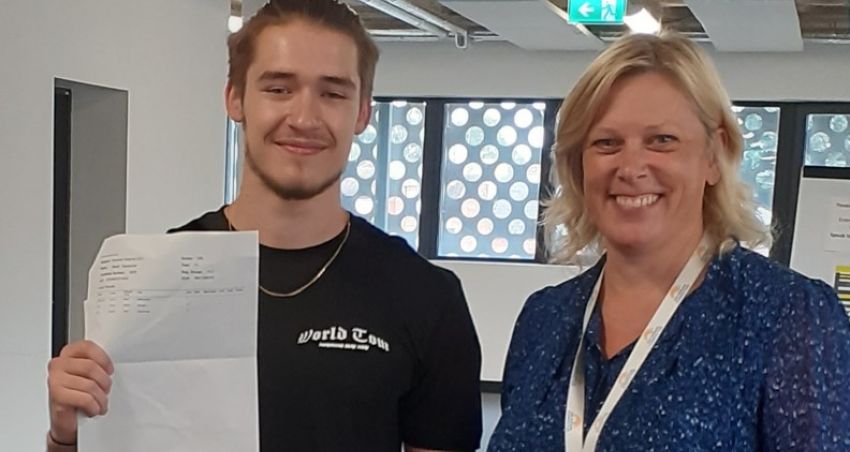 Northampton International Academy celebrate impressive first set of Post-16 results
Representing another milestone in the school's short history, Northampton International Academy is celebrating its first set of A Level and Level 3 BTEC results. Post-16 learners received their impressive results based on centre assessed grades which were rigorously evidenced by our specialist staff who worked relentlessly with our learners to ensure that grading was accurate.
The high standards achieved means that many NIA sixth formers have secured places at prestigious institutions including Kings College London, Birmingham, York and Warwick universities. Top individual performers include Adrian Gawrysiak who secured 3 x A* in Biology, Mathematics and Psychology. Adrian is heading to Kings College London to study neuroscience and psychology. Maddie Lovesy also secured 3 x A*s in Drama, Psychology and Sociology and is going on to study Forensic Psychology at West London University. Ally Asante secured 2 A* and an A and is moving on to study English and Film at Birmingham University. Axel Bechtle secured A grades in Chemistry and Biology and an A* in Mathematics which enables him to study Biomedical Science at Kings College London.
Dr Jo Trevenna, Headteacher of NIA, comments 'In this most difficult of years, the resilience of our Post-16 learners has been inspirational. Our dedicated team of subject specialists have supported the students' journey from when they were new to the school in the brand new sixth form to this point of moving on to the next stage of their lives. With our Mathematics, Physics and Biology A Levels leading the way in terms of student progress and with exceptional performances by many of our learners, we are incredibly proud to have our first set of results.'
Joshua Coleman, CEO of East Midlands Academy Trust, commented "during the strangest of times our sixth form pupils have maintained their focus on their future and with the help and guidance of our exceptional colleagues, have achieved a fantastic set of results, congratulations to everyone!"