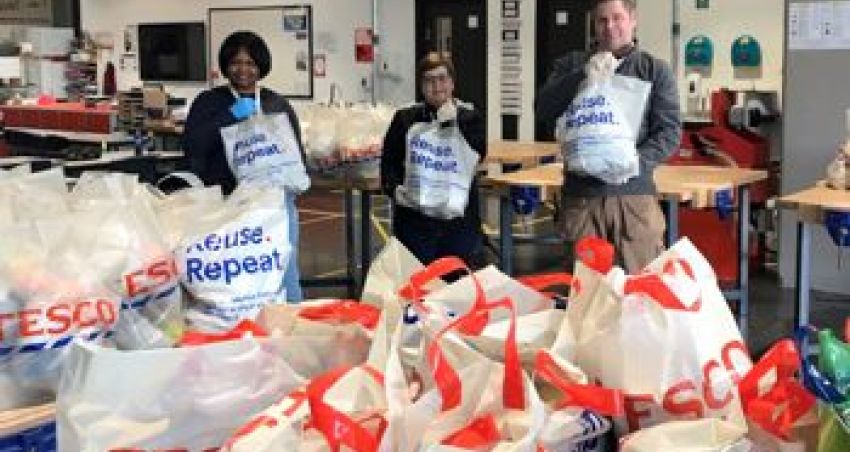 East Midlands Academy Trust has been awarded a Rose of Northamptonshire Award in recognition of its work to support families in need during the first Covid lockdown.
Staff from the Trust's seven schools provided a massive 35,000 meals to families who would normally receive Free School Meals.
Photograph 2The national school closures last spring and the delay in the introduction of a Government food voucher scheme meant those families were facing severe difficulties.
With the help of its catering provider Aspens and cleaning company Reef, staff from EMAT arranged for families to collect much-needed food parcels, and staff even delivered packages to those families who couldn't leave home.
The Trust has now received a Rose of Northamptonshire Award from Northamptonshire County Council, which celebrates the contributions of unsung heroes during the Covid pandemic.
Joshua Coleman, chief executive of EMAT, said: "It was a sterling effort from our staff and our partners Aspens and Reef to deliver a massive 35,000 food parcels to our disadvantaged families during the first national lockdown.
"Many of those families rely on the Free School Meals their children receive in school and, with the prospect of schools being closed to months and no voucher scheme yet in place, it was a very worrying time for them.
"I am so impressed by the hard work of staff across our family of schools who went above and beyond, including making home deliveries, to ensure those families did not go without."
EMAT was honoured for its Rose of Northamptonshire Award in a virtual presentation on Friday.
Lord-Lieutenant of Northamptonshire James Saunders Watson, who led the virtual award presentation, said: "The 35,000 meals EMAT provided is a fantastic amount and will have kept those families going at a time when they would have felt most vulnerable, so many, many congratulations."
Another recipient of a Rose of Northamptonshire Award was the Hardingstone Covid 19 Support Group, which established a food bank during the lockdown and provided food bags for families of Hardingstone Academy and Stimpson Avenue Academy.
The weekly operation, run from the village hall, provided each family with two carrier bags full of food and over 120 bags sent out each week.